No one travels to a foreign land just to see what they have can always see in their own country, or to have the same food they eat for dinner every day. We travel to make new experiences, discover new treasures, and understand the celebrated heritage of a country's beauty and richness.
One way of discovering the best places of a travel destination is by hiring the services of a travel agent. But travel agents may only focus on the widely recognized and appreciated details of famous sights and tourist destinations. What about those local secrets that would make your trip unique and unforgettable? Here are four ways you can discover these secret destinations.
Be social with the locals
No one knows a place better than the people who live there. Being social involves mingling with the locals and letting them reveal to you the secrets of the place. They will direct you to the best and least populated position of a public beach, direct you to the best food and drink joints, refer you to the best tour guides, and narrate to you the minute details of the history of a sight you are interested in. This also includes asking your accommodation providers for their advice. They will be able to point you in the direction of an exciting adventure, or a relaxing experience such as a good luxury day spa. 
Hit the road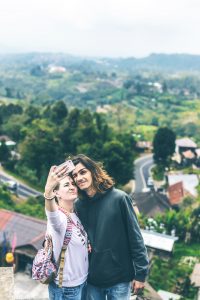 Unless your travel destination is an island and you need a boat, travelling around a country or region by road comes with many advantages. You can stop to see a waterfall or might even catch a glimpse of a wild animal. You may even stop by a remote village or discover local delicacy – these undiscovered details are usually the best highlights of any trip.
Try new things
When we travel to a foreign land, most of us will hear family and friends caution us to have our eyes peeled and be wary about what we eat. There are also many websites that give tips on travelling safely abroad. But being overly cautious may deprive us of the best secrets of our destination. Think of that ice cream joint in a small square of the city. The locals may tell you that no tourist has visited the place if they have not sampled the ice cream. While you still need to be careful, it's experiences like this you just might miss out on.
Use discovery mobile apps
While the three suggestions are great for finding any number of unique or hidden sights, there are also numerous mobile apps that name and give directions to the undiscovered or locally beloved restaurants and shops. They also might reveal a hidden river with skin-renewing properties or a unique oyster farm tour in Tasmania. Other apps will also connect you with locals who have the keys to these hidden secrets. We suggest apps such as 'Local Secrets' or the 'Hidden Place'. 
Bottom line
Make your travelling experience is unique by mixing things up between the popular and well-recognized heritage locations of your destination and the unforgettable best-kept secrets only the locals know.